Recent Posts
Recent Comments
Archives
Categories
Meta
Mean Reversion

A theory suggesting that prices and returns eventually move back towards the mean or average.
Today's release of the S&P Case-Shiller Home Price Index was a mixed bag.  A modest rise nationally, but a modest decline locally here in Miami.  With no big news, let's pull the camera back and look at another data set from a long-term perspective.
The FHFA House Price Index reflects transactions involving Fannie Mae and Freddie Mac.  This is not the luxury market, but it's a reliable indicator of overall market conditions.  It went up during the boom, and it's been coming down during the bust.
The FHFA index suggests risk that prices will fall further here in Miami.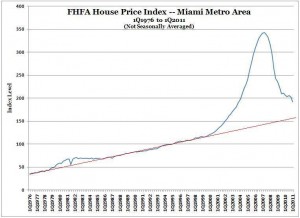 If prices are to revert to their long-term trend line (in red) — and don't bet they won't — then Miami real estate remains about 25% overvalued.  The overvaluation needs to be worked off as a function of price and time.  Prices can get back to the long-term trend line by falling fast, going sideways while the long-term trend line catches up, or more likely, some combination of falling prices and passage of time.
Same story in New York, except the overvaluation there may be even greater than in Miami at this point.  (Remember the NAHB-Wells Fargo data that peg New York as the most overpriced market in the nation, based on the ratio of median home price to median income.)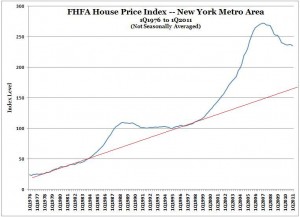 Both comments and pings are currently closed.
Thomas K. Landry Call Tom: 305-448-8728 tklandry@landryrealty.com
Categories
Archived Articles