Recent Posts
Recent Comments
Archives
Categories
Meta
The months' supply of homes for sale in Coral Gables, Florida has continued to decline toward relatively normal levels.  Excess inventory from the real estate bubble has been completely or nearly worked off in most price ranges.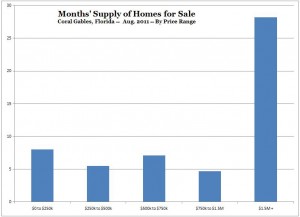 The aggregate months' supply number of 8.3 is still a bit on the high side, but low enough to represent a roughly even balance between buyers and sellers.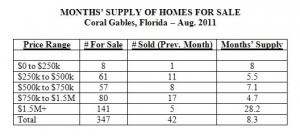 The luxury-home segment in Coral Gables continues to be extremely oversupplied, although there was a spate of closings in July, which makes the current 28.2 months' supply look good by recent comparison, if still historically bad.  As the chart below illustrates, there is no clear trend toward year-over-year improvement in luxury home sales.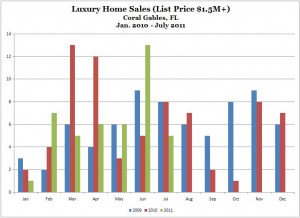 Both comments and pings are currently closed.
Thomas K. Landry Call Tom: 305-448-8728 tklandry@landryrealty.com
Categories
Archived Articles