Recent Posts
Recent Comments
Archives
Categories
Meta
The rate on the 30-year fixed mortgage averaged 4.27% last month (August 2011), according to Freddie Mac.  That's just 4 basis points above the low of 4.23% set in October 2010.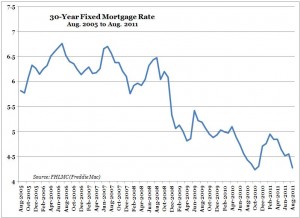 Whether you're getting a good deal on a home in Coral Gables, Miami or Miami Beach depends on a lot of other factors (including the quality of advice you get from a real estate agent).  But one thing you can't complain about is the rate you're going to pay on your mortgage.

Both comments and pings are currently closed.
Thomas K. Landry Call Tom: 305-448-8728 tklandry@landryrealty.com
Categories
Archived Articles