Recent Posts
Recent Comments
Archives
Categories
Meta
According to the FHFA House Price Index, real estate prices are still falling in Miami and New York.
Keep your eye on the long-term trend line, which we warned long ago was our destiny.  At the time, that implied a potential 50% price decline for home values in Miami.  (Did any other real estate broker warn you about that?)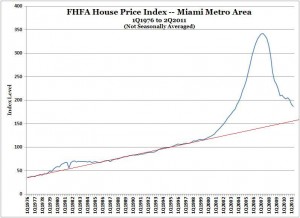 Home prices in New York have even further to go.  The New York real estate market remains one of the most overpriced in the country relative to income.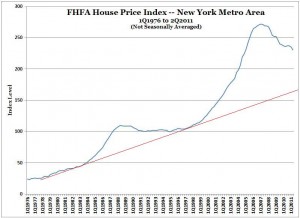 At some point, property prices in Miami and New York could start moving sideways rather than down, and work off the remaining overvaluation as a function of time rather than price.  On the other hand, it's also possible that prices overshoot to the downside — i.e., go below the long-term trend line before floating back up to it.  In any event, you should assume that the long-term trend is our ultimate destination.
Note: FHFA stands for the Federal Housing Finance Agency, which oversees Fannie Mae and Freddie Mac, the government-sponsored entities that buy up most of the mortgages issued in the United States.  The FHFA House Price Index tracks repeat sales or refinancings of the same properties over time.

Both comments and pings are currently closed.
Thomas K. Landry Call Tom: 305-448-8728 tklandry@landryrealty.com
Categories
Archived Articles