Recent Posts
Recent Comments
Archives
Categories
Meta
The vast oversupply of homes for sale in Coral Gables has almost been worked off, even in the luxury segment of the market.  340 homes are currently for sale, and 40 sold last month, which works out to 8.5 months of supply.  This is a fundamental barometer for the real estate market.  Six to eight months' supply is generally regarded as indicating a roughly equal balance of power between buyers and sellers.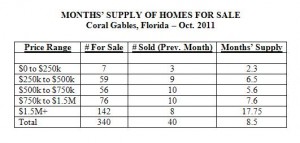 Sales of luxury homes in Coral Gables continue to shows signs of life.  It's normal for higher-priced homes to sell more slowly, but for a while, they were hardly selling at all.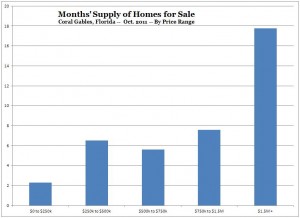 Real estate in Miami and Coral Gables remains vulnerable to further price declines on several measures: historical valuations, the price-to-income ratio, and the cost of owning versus renting.  But those measures are decreasingly troublesome, and combined with the normalization of the months' supply measure, suggest dissipating risk for buyers.

Both comments and pings are currently closed.
Thomas K. Landry Call Tom: 305-448-8728 tklandry@landryrealty.com
Categories
Archived Articles