Recent Posts
Recent Comments
Archives
Categories
Meta
The seasons are subtler variations in Miami than up north, but they are real.  Seems like someone flipped a switch and officially ended summer on October 15.  In the first 15 days of October, there were only 2 days below 85 F.  Since the 15th, we haven't seen that mark again.  Nighttime lows in the cool 60s underlined the point.  But after two rainy weekends, the sunny skies and tepid temps were like a blank canvas for the art of outdoor fun.
All of which set the mood for events that seemed in tune with the approach of winter — otherwise known as high season — when snowbirds migrate just to remain in shirt sleeves and only the vacationers think of wearing a bathing suit at the beach.  Miami and Coral Gables assume an air of sporty sophistication rather than summer sultriness.
The weekend's opening of the Coral Gables Museum was celebrated by those who helped make it possible.  And the Wynwood art fair celebrated those who make just about anything.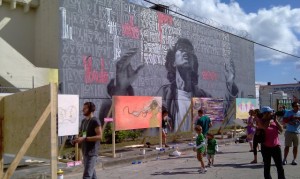 Attendees were encouraged to make their mark.
Other harbingers of winter include the DWNTWN Miami concert series, which kicked off October 14.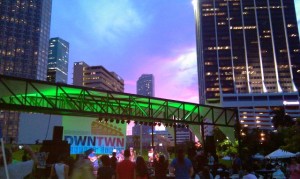 Dates for the rest of the DWNTWN series: November 11, December 9, January 13, February 10 and April 13.  Performers TBA.
High season and high culture are synonomous, and the events become increasingly haute as the temperature becomes increasingly bas.  Miami Beach brings another installment of Sleepless Night on November 5, followed by Art Basel on December 1-4.  If you haven't got your day cravats out of storage by then, you'll never amount to anything.

Both comments and pings are currently closed.
John Herrigel said at October 28th, 2011 at 11:33 am

Interesting read: it is nice to learn about how the seasons are observed through different regions. Portland, ME has had a hot and long-lasting summer, but it is now dropping into cooler temperature – we may even have a little snow over the weekend. We send you out birds!

Tom Landry said at November 1st, 2011 at 10:02 am

Come see us in sunny South Florida if you'd like to escape the long shadows of winter. And keeping sending those birds. We promise to send 'em back!
Thomas K. Landry Call Tom: 305-448-8728 tklandry@landryrealty.com
Categories
Archived Articles