Recent Posts
Recent Comments
Archives
Categories
Meta
It told you there was a boom, it warned you of the bust, and now it's telling you that this is one slooooow recovery.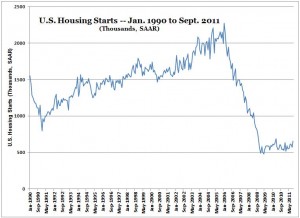 The little uptick in the data for September 2011 is as much dark cloud as silver lining.  All of the gain came from construction of multifamily (5 or more units) buildings.  Nevertheless, the data set overall appears to show a durable bottom in place.
Another positive note is that the NAHB/Wells Fargo Housing Market Index (commonly known as the homebuilder sentiment index) jumped to 18 from 14.  Like housing starts data, HMI told you there was a boom and warned you of the bust.  A reading of 18 is still quite negative (below 50 is considered pessimistic), but it's a significant step back from the edge.  The low back in spring 2009 was in the single digits.
Slowly better is better than worse.

Both comments and pings are currently closed.
Thomas K. Landry Call Tom: 305-448-8728 tklandry@landryrealty.com
Categories
Archived Articles