Recent Posts
Recent Comments
Archives
Categories
Meta
Archive for January, 2012
In the 1970s, inflation, wages, interest rates and home prices chased each other upward like runaway balloons.  People paid more for houses despite rising interest rates because people feared that waiting would only mean paying more and borrowing at a higher rate to do it.  That's the inflation dynamic — prices rise as consumers buy now fearing higher prices later.
This ain't the 1970s . . . at least if you ask the Federal Reserve.
Bernanke & Co. this week announced they do not expect to raise interest rates until the end of 2014.  This is great if you think low interest rates are an end in themselves.  On the other hand, when you see news like this, always ask why.  Apparently, the Federal Reserve thinks the economy is going to remain weak for a very long time.
The Fed might as well have told home buyers: "No need to rush."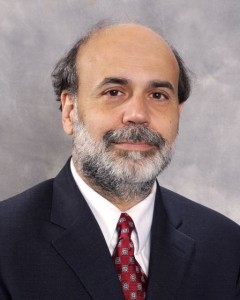 So if you're looking for real estate in Miami, Coral Gables, Coconut Grove, Miami Beach or Pinecrest, Ben Bernanke thinks you have plenty of time to shop.  Just remember, he and the Fed have been enormously wrong before.
The home at 2805 Columbus Boulevard recently sold for $3.3 million.  Just a couple of shady blocks up the tree-canopied street from the elegant Biltmore Hotel, it's easy to see the attraction.
But the sale will pose a challenge for anyone trying to understand the value of luxury real estate in north Coral Gables.  At 6,255 square feet and built in 2004, the home sold for $527 per square foot.  The lot is 16,500 square feet, and not on water or a golf course.
Compare the recent sale of nearby 1260 Anastasia Avenue, an 8,701-sf Mediterranean built in 2001 on a 24,400-sf lot.  Located directly on the Biltmore golf course, the home sold in August for $3.05 million.
Granted, the clean lines of the architecture and interior at 2805 Columbus might have resonated especially well with today's luxury home buyer.  But are Mediterraneans really going out of style, to the point that you can get 25% more house on 50% more lot, throw in the Biltmore golf course location, and still pay 13% less?
No, there is no objective explanation for the disparity in these two sales.  In real estate, subjective factors sometimes dominate.  That's troubling if you want to believe that the market is rational.  But it's also promising, because it means the market will occasionally present you with opportunities.
In the case of 2805 Columbus, the buyer was a Puerto Rico limited liability company, and the same agent both listed the property and found the buyer.  The transaction is essentially opaque.
The buyers of 1260 Anastasia, meanwhile, were James and Pamula Schlesinger.  Mr. Schlesinger appears to be the president and CEO of AWE Talisman, a real estate development firm.  Obviously, Mr. Schlesinger would not be likely to overpay for real estate.
If you, too, would like to avoid overpaying for a home in Miami, Miami Beach or Coral Gables, REF Real Estate will be glad to assist — and give you a hefty commission rebate.
The November-December period is low season for new real estate listings in Miami, Miami Beach and Coral Gables.  January through April is high season.
If you've been thinking that no new listings of homes for sale have hit the market lately, that's probably because you're right.  But cheer up.  The new year will bring a significant number of new properties to market as surely as day follows night.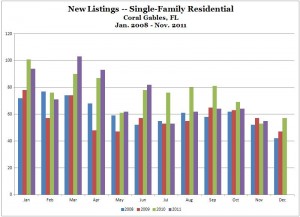 May you find the home you're looking for in 2012 (and have the good sense to use REF Real Estate to get the best advice on buying real estate in Miami or Coral Gables, and a hefty commission rebate).
Thomas K. Landry Call Tom: 305-448-8728 tklandry@landryrealty.com
Categories
Archived Articles