Recent Posts
Recent Comments
Archives
Categories
Meta
The November-December period is low season for new real estate listings in Miami, Miami Beach and Coral Gables.  January through April is high season.
If you've been thinking that no new listings of homes for sale have hit the market lately, that's probably because you're right.  But cheer up.  The new year will bring a significant number of new properties to market as surely as day follows night.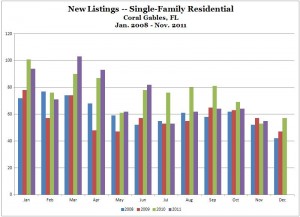 May you find the home you're looking for in 2012 (and have the good sense to use REF Real Estate to get the best advice on buying real estate in Miami or Coral Gables, and a hefty commission rebate).

Both comments and pings are currently closed.
Thomas K. Landry Call Tom: 305-448-8728 tklandry@landryrealty.com
Categories
Archived Articles