Recent Posts
Recent Comments
Archives
Categories
Meta
Archive for March, 2012
Here's another sign of a bottom in Miami Real Estate: the price per square foot of condos sold at the Cosmopolitan Condo in South Beach.
The chart below shows the sales history going back to the building's construction in 2004.  Blue represents individual unit sales, black is the 20-sale moving average.  Prices have broken above the moving average, reversing the downtrend.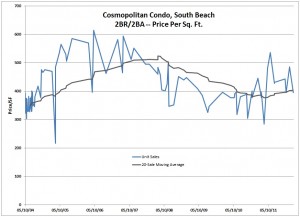 The Cosmopolitan is located at 110 Washington Street in the very desirable SoFi (south of Fifth Street) neighborhood of South Beach, which is one of the most desirable locations in Miami Beach.  The Cosmo is a middle-market building, with units in nearby luxury condos like Continuum and Apogee selling for much higher prices per square foot, and units in the dwindling stock of old buildings in SoFi selling for less.
Fountain in yard of home in the Ponce-Davis neighborhood of Miami, Florida.  Tucked in beside Coral Gables, Ponce-Davis is among the most desirable Miami neighborhoods.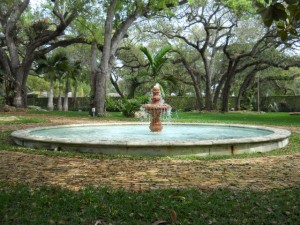 Thomas K. Landry Call Tom: 305-448-8728 tklandry@landryrealty.com
Categories
Archived Articles