Recent Posts
Recent Comments
Archives
Categories
Meta
There is now a perfectly normal 6.4-month supply of homes for sale in the Coral Gables single-family real estate market.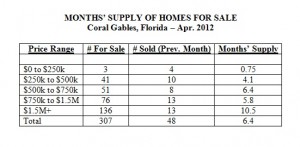 The data reflect a normal progression toward slower sales at higher price ranges.  Homes priced below $250,000 are few, but sell in a flash.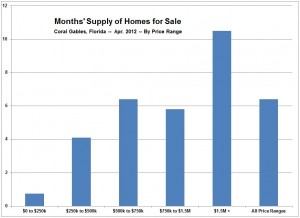 The months' supply figure is a fundamental measure of market conditions.  It represents the number of homes available divided by the number sold in the preceding month.  Normal is about 6 to 8 months' supply, indicating a roughly even balance of power between sellers and buyers.  A number below 6 suggests a sellers' market.  A number over 8 suggests a buyer's market.

Both comments and pings are currently closed.
Thomas K. Landry Call Tom: 305-448-8728 tklandry@landryrealty.com
Categories
Archived Articles