Recent Posts
Recent Comments
Archives
Categories
Meta
Archive for July, 2012
Since the real estate bubble burst, cash transactions — i.e., without mortgage loans — have accounted for an abnormally large share of home sales in Miami and Coral Gables.  But now that sales numbers have rebounded and prices have stabilized, has the number of cash transactions normalized as well?
Not really.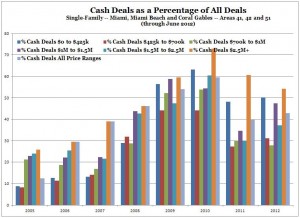 Although the share of cash purchases in Miami and Coral Gables has receded somewhat from the post-crash peak, they still represent a far greater share of home sales than they did before the crash.
In other words, an unusually small portion of single-family homes sold in Miami and Coral Gables are sold to traditional buyers who have a downpayment and borrow the rest.  This is troubling.  The possibility that prices have hit bottom would be more reliable if pricing were being set by the traditional, daisy-chain relationship of incomes to loan amounts to prices.
Happy Independence Day to all.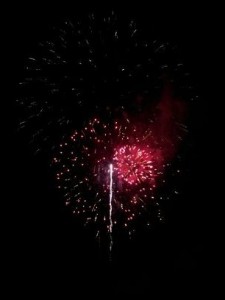 Fireworks returned to the Biltmore Hotel in Coral Gables for the first time in several years.  The tradition fell to budget cuts but returned for at least this year, thanks in part to institutional sponsorship by Bacardi and the University of Miami.  It was a great show and the Biltmore seemed to have drawn a lot of guests in addition to the local crowd.  Let's hope it can become an annual event again.
Thomas K. Landry Call Tom: 305-448-8728 tklandry@landryrealty.com
Categories
Archived Articles