Recent Posts
Recent Comments
Archives
Categories
Meta
Archive for January, 2013
The S&P Case-Shiller Home Price Index for Miami posted a modest gain for the three-month period ending November 2012.
Source:  Standard & Poor's
Prices gained 9.9% year-over-year (Nov. 2011 to Nov. 2012).  That's a fast pace for real estate, and certainly far quicker than incomes have risen.  No doubt the Fed-sponsored drop in mortgage rates helped.  And there could be a bit of an echo bubble in psychology, as media reports have served up a steady drumbeat of housing-recovery stories.
Will it continue?  Shiller himself is skeptical, writing in a recent New York Times piece that "the tea leaves don't clearly suggest any particular path for prices, either up or down."
This much is certain:  Even if prices continued to rise 9.9% annually, it would take over 6 years for prices to get back to their bubble high.
Source:  Standard & Poor's
The fact that it would still take so long at such an unrealistic pace for prices to regain their high is a testament to the mendacity of the bankers, brokers and buyers who inflated the bubble.
Meanwhile, in New York, the real estate market remains moribund.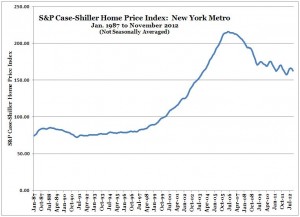 Source:  Standard & Poor's
Not quite back at its low, and maybe there's a broad, bowl-shaped bottom taking form, but that's about the best you can say for it.
Nonetheless, the crash already happened, and prices have reverted close enough to the long-term trend that the risk of loss has diminished.  If you find a good deal, and plan on holding a property for a long time, buying may make sense, particularly if you plan on financing at currently low rates.
Thomas K. Landry Call Tom: 305-448-8728 tklandry@landryrealty.com
Categories
Archived Articles