Recent Posts
Recent Comments
Archives
Categories
Meta
A year ago, home prices in Miami had already risen so much faster than incomes that the ratio of median home price to median income was higher than at any time outside the bubble that burst.  (See Do Incomes Matter to Home Prices?)
With another year of low interest rates and cash buyers, the relationship between Miami home prices and incomes has deviated significantly further from historical norms.  The median price rose while the median income actually fell, according to data from the National Association of Home Builders.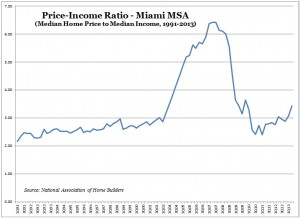 [Geeks' note: A few of the data points in the above chart were missing from NAHB statistics, and those gaps were filled by interpolation.]

Both comments and pings are currently closed.
Thomas K. Landry Call Tom: 305-448-8728 tklandry@landryrealty.com
Categories
Archived Articles